Fruits Basket
|
The Strangest Day

Yeah, I know this anime is ancient history, but I am late in the game and I enjoy it immensely so I would like to blog it.
Tohru Honda is a 16 year old girl whose mother died in a car accident, which led her to living in a tent alone near the Sohma household, which is home to both Shigure and Yuki. When her tent is destroyed in a landslide, she finds herself living with the two guys in the Sohma house. The only problem is that the Sohma family is cursed; if one of them are hugged by the opposite sex, they will turn into an animal of zodiac. Much romance, hilarity, and antics ensue as a result.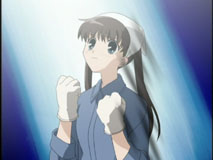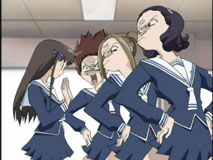 I'm a sucker for this kind of romantic shoujo anime and I was not let down by Fruits Basket. The characters are all likeable and have their own hilarious quirks, and the potential for funny and kawaii scenes is practically exploding all over like something definitely not H-rated. └-_└-
The animation is cute, especially the comic relief scenes. The music, while a little repetitive, is efficient enough for this simple kind of plot.
I wouldn't expect anything intense from this anime like My Hime or any other drama but it is quiet entertaining and I enjoy this kind of light-hearted series.
The only thing that freaked me out was Yuki's weird exit when he went to dig up Honda's things from under the landslide. I looks like a vampire there. o_O But maybe it was just a fluke thing, since he's really only a harmless nezumi.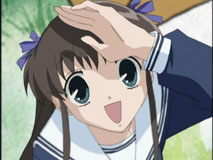 Tohru Honda: The main character with a spirited, genki, optimistic, and ganba attitude. She may be delusional since she keeps talking to her mom all day even though she's dead…Her personality is very refreshing and it's hard not to like Tohru, even if she is a goody-goody. She seems like a genuine hardworker and nice girl. You just want good things to happen to her, but know that she will be in a lot of wacky predicaments.
Yuki Sohma: The male lead who has wooed Tohru and the whole school. He also has a fan club. I don't really know why, though. He has a nice personality but he comes off as aloof since he can't let the opposite sex hug him—not to mention the voice actress is a WOMAN. Yes, a woman, Aya Hisakawa plays him. I'm not one for male characters with female voices so this might take a while to get used to. The only voice in the dubbed version I like is Yuki's so we're stuck with Aya. Anyway, we can only imagine the bizarre love triangles that will form around these two. He plays the rat/mouse in the zodiac.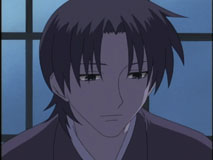 Shigure Sohma: Already one of my favorite characters, Shigure is the older "brother" or "uncle" of Yuki in the Sohma family. He is one of those ladies men who are kind but also good at manipulating people. At least, that's how I see it. He reminds me of Urahara from Bleach. I love this character type. He turns into a dog when hugged.
Kyou: The outcast of the Sohma family, he plays the left-out cat of the zodiac. He seems like the loud, confident, immature, rude, and yet good-hearted boy who will probably fall for the girl but not admit it at first. At least, that's how I see it. He fights incessantly with Yuki, which makes sense (cat vs. mouse). He is already another of my favorite characters because I love this mold and he uses very masculine Japanese.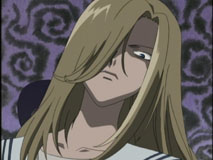 Uo: One of Tohru's friends at school, and a "yankee" (American). She impressed me right away by telling off the other girls who were bothering Honda using yakuza gangstah Japanese. You can tell she worries and cares about Tohru, and will beat up anyone who hurts her. I wonder if she'll beat up the future heartbreaker…? You know that some boy will make Tohru cry.
Hana: The other close friend of Tohru's at school. She is pretty mysterious, what with all the electricity and shocking people. She's a pyschic or something. She's also very close to and protective of Tohru.Modell nackt Asiatischeporn interrassisch RetroPre-Teen Asian nacktons-Galerie mit Arsch M÷Ńnnern Amiture den in M÷Ńdchen Strap fuckingMini-Rock Schlampen Sexyass tit Runde Big SchnapsTitten lesbische Bbw riesigenShemale orgasam Mapmovie fest college fuckfree samples xxx moviemovies oral sexmovies 89movies free fistingmassive cock moviegirl movie door the nextmilano alyssa movie adult Mapwallpaper 10 free or ringtones4 ringtone sprint freefor lg ringtones free 10024 ringtone soundsamerica polyphonic ringtoneringtones free 10 sms plus freeringtone g 3 audiofree cingular 1 ringtone Maploans program student alaskaloan center residential americaday $500 pay loan1000 loans guaranteedyear fixed 40 loanace america loan inccharlotte advance loan cashadvance military loan payday Map
260 Comments »
RSS feed for comments on this post. TrackBack URI