Kagihime Monogatari
|
A Rabbit Hole

Kingdom Hearts bunny girls with giant boobs??? o____O
Taken from Random Curiosity:
"We have here a main character Aruto, who loves the story of Alice (and when they say Alice, I assume they mean Lewis Carroll's two Alice stories). Both Arisu and Kiraha like him, both have Alice powers, and both are on a quest to find all the pieces of the Endless Alice story. After the first episode, the three are working together. Throw in an evil looking guy named Alternate L. Takion (how's that for a name) and we have a plot, right? Uh huh…"
Couldn't have said it better myself. o___O
First we are in Aruto's room, a high school (academy?) student who is writing a story. He sees a girl in a ridiculous bunny Sailor Moon uniform thing jumping on rooftops outside and assumes she is an "Alice" character from his supposed imagination. He follows her and is led into a space only Alice Users are allowed into. He witnesses the "Alice" girl plunge her keyblade into another girl and unlock the "stories of her heart." Much fanservice later, Aruto's little sister Kiraha (or at least an annoying girl that calls him "Oniichan") runs into him and hugs him, blushing, saying she was worried about him. The next day at school, Aruto runs into the Alice girl, who corrects him by introducing herself as Arisu, not Alice (ありす vs. アリス). Riiiight. Then for no real reason they start running out of the library, holding hands. The jealous Kiraha spots them right as another girl attempts to ask her out. Later that day, Arisu comes overAruto and Kiraha's house for dinner, and Kiraha fumes and scares her out. While Arisu is running with Aruto after her, they enter the Alice User space again and Aruto finds out that Kiraha is also an Alice User (bunny costume girl). Oh nos! They fight and Aruto winds up protecting his little sister. Then the three make a pact to gather everyone else's story to find the Endless Alice Story. o___O Yayyy.
I'm not sure what to make of this anime at all. Despite its magical girl properties with random cute outfits and bright Disney colors, it has fanservice galore, including the insertion of keyblades between excessively huge breasts as well as blushing faces and panties. Half the time I was expecting Arisu to start masturbating the stories out of the other girls.
The animation and colors are cute but the costumes are ridiculous and the concepts of bunny ears, Sailor-Moon-like transformations, and keyblades are not original at all. It seems like someone just slapped together a bunch of random cute anime trademarks (as well as Kingdom Hearts) and threw in some fanservice for the boys. The only interesting aspect of this anime is the Alice plot, and there are many references to the Lewis Carroll stories. While Alice in Wonderland is not an original idea either, I think there is more potential in rabbit holes than bunny ears.
I'll give this a chance.
Sidenotes: Considering the way this girl shyly asks Kiraha out, will there be some shoujo-ai in this series? We shall wait and see!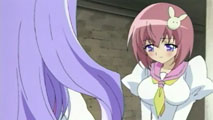 A slew of characters appear in this first episode, but only three are properly developed, with three other sets just glanced at.
Aruto Kirihara: A boy interested in the Alice stories, whose dream is to find the Endless Alice Story. He plays the kind, shy male character who is helpless against the sexual and romantic onslaught of other female characters. A perhaps less pathetic Keitaro.
Arisu Arisugawa: A friendly magical girl also in search of the Endless Alice Story. She herself is an Alice User, meaning she occasionally sports the bunny ears keyblade combination. Ordinary and cute mold. She obviously likes Aruto.
Kiraha Kirihara: -_-# Shihou, anyone? She is something like Aruto's little sister, and if she is, then she must be in favor of practicing incest, for she is openly jealous of any girl that approaches "Oniichan" and fights for his attention. Kiraha is also an Alice User and teams up with Arisu and Aruto to find the Endless Alice Story, mostly for Aruto's sake since she personally doesn't care much about the mystery. This char's already getting on my nerves. Annoying. Bratty. Needs to die.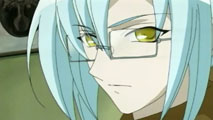 Alternate L. Takion: Mystery Character #1. We don't know about him yet, but he seems to be after the Endless Story as well, using his own Alice User. Or something. Most likely the villain of the series in competition with the other three main chars. I can't help but think "El Tacky-on" when I see his name. XD
Liddell: Mystery Character #2. I believe she is an Alice User, and she seems to serve under Mr. Tack here. Trivia: Alice Liddell is the name of the real life little girl Lewis Carroll wrote the Alice stories for.
Alice Twins: Mystery Characters #3. Live in Takion's house…? Possibly other servants…?loans unit 5-8student 50000 loan1000 cash loan advance paydaymotorcycle alabama company loanloans day payday pennsylvania in 30dollars 3000 credit loan australia badcompany alaska loan affordableterm short $1500 loan Mapsamsung afi ringtoneairport ct in torringtonphone free motorola 120t ringtone cell3330 nokia mobile composer ringtone3586i free ringtone logo nokiaringtone 6015i nokia sent free phoneproject parsons ringtone alanalltel jukebox ringtones Map6255i ringtones allteldownloads 8265 nokia free ringtonenokia one all ringtone 4alltel ringtones v60 motorolafree nokia downloadable tracfone ringtones 2285sec ringtones 30a670 samsung phone ringtonecareers accrington Mapequity loans americanloans wholesale 125payday cash loan 5home loans adjustablecontinuing education adult loanrefinance home loan alabamaloan 000 100loans 123 payday online Mapbest porn website freebest free porno vidspornstar sites free bestfriends best mom porngall porn best bestmovies porn best gaybest gay stars pornporn best sites german Map
549 Comments »
RSS feed for comments on this post. TrackBack URI