Anime
|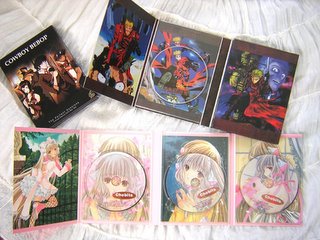 Pirating:The dilemma between good prices and quality versus supporting the real deal.
In a reply to one of my comments on Jason's Thinpaking post, Jason pointed out something I had been doing for years without even realizing it: unwittingly purchasing "Import DVDs" from websites such as Discount Anime DVD, thinking that I was supporting my favorite anime, I have been pirating this whole time!
If you've purchased DVDs online, you may have also paid money for pirated DVDs without knowing it.

"Wahhh! Saria~~ How do I find out if my DVDs aren't authentic?" O_O
A great deal of information on anime piracy can be found at the Anime Digital Pirate FAQ, including ways to identify pirated goods.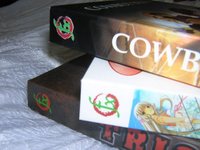 I found the telltale marks of piracy on my DVDs in the fx logo (pictured left) printed on every box. I thought fx was simply a distributing company but when I googled for "fx anime DVDs," I turned up the Anime Digital Pirate FAQ, with fx being one of the logos they warn against! I was so surprised. There are also no copyrights anywhere on the box and the "fine print" warning against piracy (what a joke) had terrible Engrish and was printed slightly out of focus.
All these pictures are just three of my pirated boxsets (Chobits, Cowboy Bebo
p, and Trigun). As you can see, the artwork spanning the covers are detailed and printed with high quality. I have never seen this kind of work on usual domestic box sets. I had no idea that any of these were anything less than the real thing. All the normal DVD features are on each DVD: toggable English/Japanese Audio, toggable English (and sometimes Japanese) Subtitles, as well as DVD extras that the import DVDs would have—trailers dubbed or subtitled in English, some interviews with crew. Why did I buy them? They were $30-40 versus $200-250 domestic for the series. (In fact, the Cowboy Bebop set came with the series, movie, and OST for a grand total of $35, compared to the $200 for just the series OST).

Pirating: Pros and Cons
I'm not advocating for or against purchasing pirate DVDs because I am barely coming to terms with it myself. These are just some pros/cons I can think of.
Cheaper Price ($30-40 for a 26 episode series, $15 for a single DVD)
Availability: bootlegs go through a faster, cheaper process so your favorite series might be available in an "import" version weeks or months before a domestic version comes out.
Buying, selling, or distributing pirated goods is a federal offense
Harms the real anime industry
Supports worldwide piracy
Steals the intelligent property of talented groups that put out your favorite series




Characteristics of "Domestic DVDs"
(DVDs that can be found at your local video or electronics store like Best Buy, etc.)
High Price: (no kidding) about $150-300 per anime series, depending on the length; $
Quantity: Only 3-4 episodes per DVD, so about 8 DVDs for one 26-ep series.
Packaging: Single DVDs in standard Amaray cases, usually contained in a big box with some art on all sides. Each case has its own cover art and insert.
Authenticity: Contain "DVD Video" logo as well as other Dolby Digital, Bandai, etc. logos in associated with the real production of the anime.
Print Quality: Clear, printed art with sharp lettering (no fuzziness) on the cover art.
Now what? I have about 5 or 6 of these DVD sets. What do I do with them? I'm not going to throw them away. They are perfectly good and function the same as domestic DVDs. Can I get arrested for just having them in my possession? Should I not even post about this…? =,='
Or, an even better question. Do I continue to purchase these sets, affordable as they are? What do I tell the people I have informed about "cheap, great import DVDs?" Should I tell them to stop buying? There is no way I can afford to buy any domestic sets at the moment. I can only hope that price goes down or something. Maybe I will stick with my unlicensed fansubs for now. I want to support the creators of my favorite anime, but isn't $200 asking too much of me? I don't even make enough money to qualify for taxes!

What do you think about this?

Piracy in general or just "Import anime DVD" piracy.
site yugio porn card adult3some sexporn amatuer vidoesgay sexvilla 3damateur flicks pornporn abused grannylaw offender alaska sexualamateur porn torrents Mapcredit apr 0credit card card credit accept onlinedebt advice card creditcredits credits screen screen actor actoraccept email by credit payments cardcard payments accept credit onlineaccept payment card instantly creditaccreditation board Map
477 Comments »
RSS feed for comments on this post. TrackBack URI