Paradise Kiss
|
Future
未来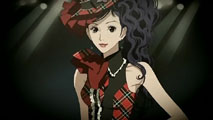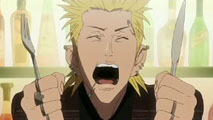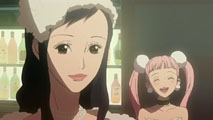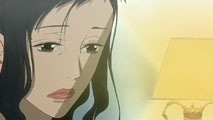 This rich artsy series comes to an end! :< It's the holidays (Christmas New Year's) and everyone's celebrating together, as well as graduating. We say goodbye to the characters and get a glimpse of their futures as they move on in their lives.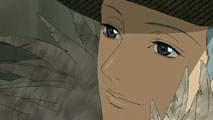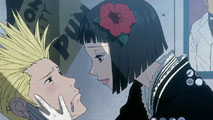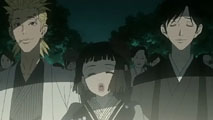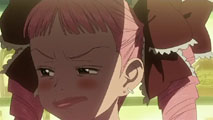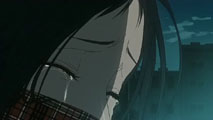 After a Christmas party at the atelier, Yukari and George head back to his apartment to have a "sleep over." However, in the middle of the fun, the doorbell rings. Exasperated Yukari comes face-to-face with Kaori, George's really good friend who went to the same art academy as him. She's a designer too. Despite Yukari's fuming and fierce jealousy, George invites Kaori in, ruining their romantic night together. It isn't until Yukari listens in on their conversation that she finds out George is planning to work under his friend as a highly-paid apprentice and leaving clothing design as a hobby. Kaori tries to convince him to become a clothing designer, since he'd be brilliant. She gets angry/sad that he never confided this in her and so she leaves after Kaori.
Meanwhile, Miwako is in bed with Arashi, but texting Hiro while Arashi's asleep. After Miwako falls asleep, Arashi gets her cell phone and starts reading all her emails to and from Hiro, which sound incriminating. He throws down the phone in a jealous rage, smashing it to pieces, and then starts chastizing her for sneaking around and communicating with Hiro behind her back. Miwako starts crying.
The next day, George throws his dress designs out of a window and one of his teachers/colleagues/something from the school picks them all up and yells at him for not following his dream and giving up at age 18. Something in George changes and it seems like he's made up his mind now.
Back at the atelier, Arashi is by himself, playing guitar and singing (being hot). It's a sad song and Isabella comes upon him. On his way out, he passes by Miwako on the steps and sees she has a new phone. He tries to give her money for the phone and apologize for being a jerk. George comes down the steps and announces that he found a buyer for their dress.
For New Year's, everyone goes out together to the shrine. When Miwako came to Arashi's room to leave with him, she's surprised to see both Hiro and Arashi sitting there. Arashi organized an outing for them together, showing he's grown up a little. :D
When George and Yukari are together (Yukari looks beautiful in her kimono!), he tells her that he decided to go to Paris to follow his dreams after all. She can't go with him because she has just started her modeling career. He says he'll be lonely without her but there's nothing they can do. :<
After this, everyone has another party in the atelier to bring in the New Year. Everyone says what they plan to do for the future. Arashi wants to continue work with his band, the Babys, Miwako wants to work under her older sister, Isabella is going to work with a company making patterns, George is going to France, and Yukari is going to try her best with her modeling. Hiro gets into his top choice, hoping to be a successful psychiatrist. George drives Yukari home and they say goodbye for the last time.
Yukari doesn't go to see him off when he leaves and instead does a commercial. When she gets home, there's a package waiting for her. It is a beautiful box with a butterfly on it and inside is a ring George made and a room key. On the bottom of the box are directions. Yukari runs to the place indicated on the map and gets to a door with the same number as the key. She opens it to reveal a huge room of all of George's dresses. She remembers how he said he wanted her to wear them since they are so important to him. (This is where I start crying a bit).
Arashi and Miwako see George off, but Isabella isn't there. We then find out she was on the boat with him and plans on going with him to make patterns for his clothing. A real friend.
10 years later, Yukari is about to get married (not to George), yet she still wears George's dresses because they look good on her. For their honeymoon, she's going to America. They received two Broadway tickets in the mail. The musical's costumes are all by George. The anime ends with Yukari saying she knows she's going to cry.
I was pretty surprised with the ending. I was not sure what would happen, but I wasn't expecting a total break up between George and Yukari, though I am very pleased about it. They were not good together and Yukari was too weak with George, in my opinion. I don't think George was made for a committed relationship and Yukari was starved for that kind of bond. I think this decision was definitely in both their interests and I'm glad.
It seems like the anime was resolved very well in this short episode. Old friendships were healed, the Arashi Hiro Miwako love triangle settled, and everyone followed their dreams and careers. Though they all parted ways, they were able to fulfill their separate lives in peace.or free wallpaper 10 ringtonessprint 4 free ringtone100 lg for free ringtonesringtone sounds 24ringtone america polyphonic10 ringtones plus free free smsg 3 ringtone audiocingular free ringtone 1 Mapwife movies slut freesquirting female movies masturbation freemovies sex free swingerteen free movies porn blackfree movies transexualsex virgin free moviesmovies free pics & zoophiliaporn french movies Maploans $1000 cash onlineloan a motorcycleaffiliate programs loanloans mortgage 2nd equitypayday payday 9 loanmoney advance loan paydaycompany home loan alaska100 financing loans Mapunsecured loan 50k1040 education credit expenseaba credit consumer school nationalpolicy a credit more liberalprotection article aarp creditcar used about credit securedcheck credit accuratescroe 515 credit Map
348 Comments »
RSS feed for comments on this post. TrackBack URI