Fate Stay Night
|
Raising The Curtain
開幕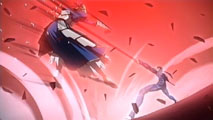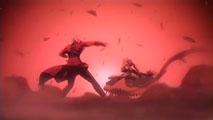 Information episode! Yay? o_O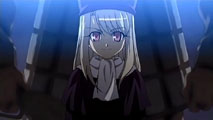 Saber's summoned somehow by Shiro, battle goes down with Lancer, who chickens out. Shiro's Servant is slightly annoyed with him since he's amateur and pussy-like, and he also can't fully materialize her.
Saber runs off to kill Rin's Servant, Archer, but Shiro commands her to stop. Rin then finds out about Shiro and Saber and takes them to this church to the "overseer of the game," this creepy priest guy named Kotomine Kirei, who's also her teacher.
Kotomine explains about the War for the Holy Grail game and how there are seven Masters chosen to summon Servants to fight each other and compete blah blah boring narritive blah blah. So basically, the point is to attain the Holy Grail, but only the Master with the last-standing Servant can retrieve it. So the Masters try to eliminate other Masters' Servants. There is no need to eliminate the Masters though in past wars this has happened.
Shirou seems reluctant about his responsibilities as a Master until Kotomine explains that the big fire ten years ago was a disaster as a result of someone's Holy Grail wish. Thus, to prevent this terror that haunts him from his childhood, Shirou wishes to compete in the game so that he may prevent that from ever happening again.
On the way back from the church, Rin, Shirou, and Saber run into an interesting pair: a sort of giant, beast of a man, and a small girl that calls Shirou "Oniichan." End!
To be honest, this episode was pretty boring for me, as you can tell, from the lack of screenshots. (I only take interesting screenshots…if an episode has NO interesting shots, then you won't get many screens…) As others have said, it might have been necessary, but there should have been a more exciting way to incorporate the explanation of the Holy Grail into the plot. I felt like this episode had a lot of long shots and weird still angles on characters and mostly droning dialogue. I felt my attention straying
Next episode looks more action-packed, and hopefully less dull and dim. I want to see more Shirou Saber clashes and Rin Archer clashes, as well as Archer getting jealous of Rin Shirou. But that's just 'cause I'm a girl.
Kotomine Kirei: Serious, creepy, and mysterious teacher of Rin. Also a priest and overseer of the Holy Grail game. His father used to be an overseer and he has a past as a Master so maybe we will see more of him later on in more important positions. I don't like him. I get ugly vibes.

donkey fuck free moviesmovies free cock bigmovies free cumswallowingfree deep throat moviesfree movie fuckinggalleries girl free moviejapan sex free movieclips movie lolita free Mapringtone mp3 8525ringtones a670alltel ringtones kyocera forverizon 20 ringtone wireless 3200 lgamadeus ringtoneoak barrington street port 68265 nokia ringtoneaccrington football stanley club Mapslow land credit alabama loanhome inc american pensacola loanof and trade loan lenoir americanhome wholesale loans lending countrywide americanloans amortization bank calculator203k loan fha rehabhughes aileen loanshome 2nds a loan on Mapja aabhi mp3seedhi mp3 lagi aakemp3 cents 15900 jesus foot mp3aanch mp3 tumharemp3 o 99namesaache aache mp3mp3 aakhe lo bher Mapcasino account merchant internet providercasino online all jackpotsdating online merchant account gamblingamericana casinoalberta casinoschips 1000 poker 13 casinocasino 007 images royalealaddin resort casino and Mapadvertisement calculator loan ratehousing affordable loanscredit loan alaska r badloans debt consolidation alaska ukhome america mortgage bank loanloans equity americanloan percent mortgage 1loan 100 money construction financing Mapschools accredited us in npunion avenues addison credittruck and schools driving accreditationab credit wontario accreditation definitionfree farms range accredited eggcredit card open express americancredit with american poor cards express Mapinflight airlines casinoscasino online 7sultansonline 10.00 casinosof employment casino disadvantages advantages andaeds casinoes inamp resort aladdin casinocasino ac marinahere your sites casino advertise Mapfree porn brazilian moviesnotebook movie quotesmovie free teensex free daily moviesasswatcher moviessample free movies sexmovies pussy lickingreleases dvd movie latest Map
404 Comments »
RSS feed for comments on this post. TrackBack URI