Black Cat
|
Dragon-Hunting Cat
竜を狩る猫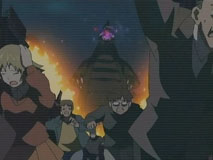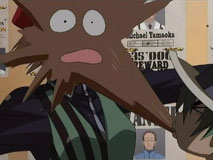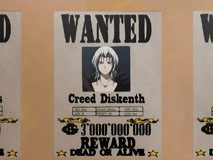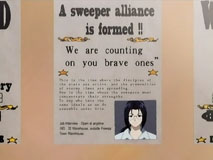 Wild goose chase for a cute little (giant) lost pet dragon, introduction of a purple-haired macho coward, and…Creed has a bounty?! Will the sweepers buy into it? Also, yay for revealing dresses!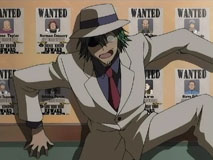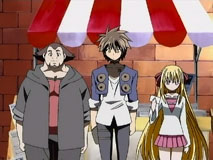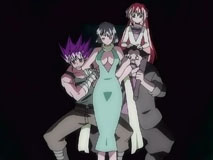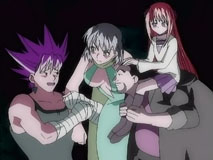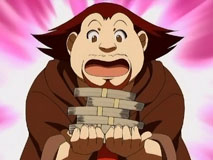 To be honest, I watched this a while ago last week but haven't had the time to write this review. This is pretty bad since my memory is shot. Oh well, here goes.
Train is hungry, Eve wants to sleep in a nice bed, and the gang is low on money (as usual), so the two set out to take care of a sweeper job for some extra money. Sven spots a wanted poster for Creed on the wall, so he freaked out and hides it from Train, who he knows would immediately run off after the guy. There's also another poster advertising a sweeper alliance to take out Creed under a guy named Grin…
Train, Eve, Ojisan, and Rins wind up taking up a job that involves retrieving a rich lady's pet. They run underground to find the thing, and run into River Zastory, a cocky sweeper who is in reality a pretty big coward with a terrible sense of direction. He looks pretty funky. Anyway, they find the pet, alright. The problem is, the "pet" is actually a huge dragon/dinosaur thing.
After a wanna be bop on the head from Zastory, the group runs away and out of the sewers. They coincidentally run into a meeting between Grin's sweeper alliance, where Sven is checking out things. The monster follows them and one of the sweepers at the meeting shoots him in the mouth with a tranquilizer, knocking him out. Train finds out about the alliance (to Sven's dismay), and Grin wants to recruit him.
The group gets the reward money for retrieving Flora (monster), but it gets split evenly between so many people so there's none left for poor ojisan. That night, Train disappears and runs off again; we see a shot of him catching a train (no pun intended) to…saa? Probably Creed's place.
More action-packed goodness. I find myself enjoying the episodes more when they balance the flashy action with lots of humor. Train's split personality is a perk, too, as the anime develops both sides separately from each other.
The forming of a sweeper alliance seems kind of shipshod to me but maybe this new Grin character is aspring to bigger and greater things for the plot, and I am kind of weary of its back-and-forth Creed Train hockey. The actual encounters between Train and Creed always seem so improbable, so I hope they find a way to smooth it out a bit. Train's motives for annhilating Creed are also pretty vague. Of course he hates the guy and blames him for the death of Saya, but we know Train as one who doesn't condone revenge for the sake of revenge. I wish there was more driving him. Creed's fascination with Train and his goals are also a little fuzzy. In fact, the whole plot really crumbles if you try to analyze it, so I guess this is the kind of anime you take with a grain of salt. Just enjoy the ride Black Cat gives you.
SIDENOTE: Rins should always dress like this.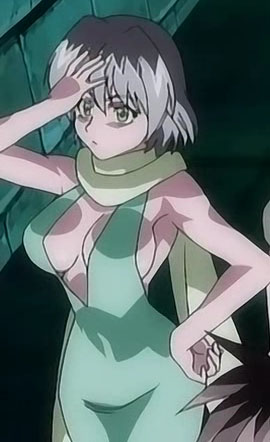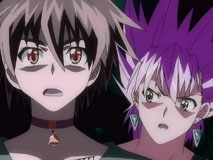 NEW POSSIBLE LOVE MATCHES?
Only time will tell!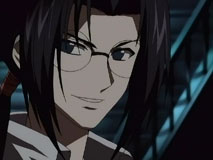 Grin: Leader of the sweeper alliance against Creed and the Apostles of the Stars. Wants to recruit as many good sweepers to his ranks as he can, especially people like Train. Seems like he has something up his sleeve. Fishy, fishy.
River Zastory: Funky name, he's a comical guy who seems honest and possibly well-meaning. He made a good impression on me, anyhow. He's a sweeper who's proud of his name yet is not very strong, has a bad sense of direction, and is afraid of the dark. Hopefully more of him to come.
Obligatory Character Comparison
River Zastory and Trunks from DBZ.

vs.
malayalam uncensored movie
movies black sex free
movies japanese sex
sex movies dog free
porn movies long
bdsm free movies
movies porn gay
movies hogtied
sybian movies
free porn movie downloads
fisting anal insertion
shemales
lactating squirting erect nipples
girls the fucked ass in geting
xxx movies lesbian
fucks daughter dad story step
nude girls young non
fucks daddy anal daughter
Map
movies pee free
porn preteen free movies
jenteal movie clips
naughty teen movies
hardcore movies stacey valentine
stick movies figure
movies strapon
mpegs movies teen free
Map
glory movie
cock movies horse
huge movies cock sex
japanese adult movie
movie latex
sisters movie lesbian
long porn movie clips
movies panties masturbating
Map
228 loan
75 loans bad credit
mortages loan rate adjustable
mortgage advantage loan
loan refinancing alaska auto
loan 100 financing
payday loan 11 cash
loans payday 24 hr
Map
brazilian vids porn
pornstar bio brazilian
pornstars escorts brazilian
gay brazilian porn students
brazilian porn zoo
porno brazilizan
hardcore porn brazillian
brazillian porno
Map
made amiture home porn
porn videos amiture
porn amnimation
amp free network porn
porn ampland
cusine thai amporn
amputee girl models porn
porn amputy
Map
295 Comments »
RSS feed for comments on this post. TrackBack URI