Kashimashi - Girl Meets Girl
|
Girl Triangle
少女三角形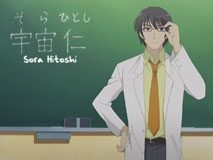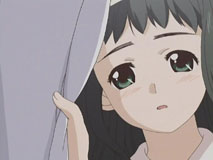 Oh, the drama of being a lesbian. Hazumu and Yasuna go on something very like a date with matching dresses, with Tomari being the ultimate pussy-block.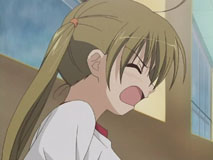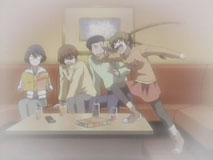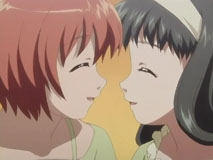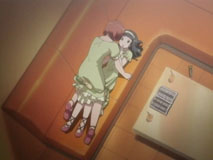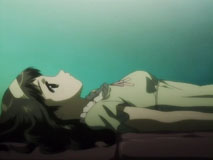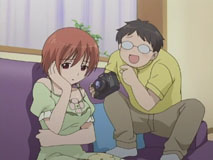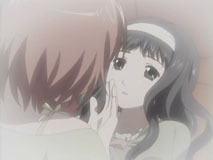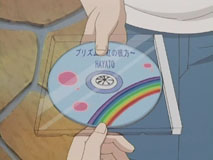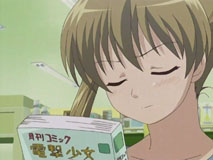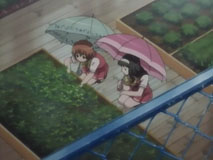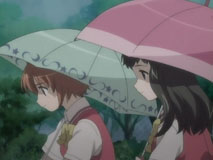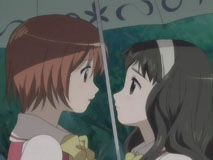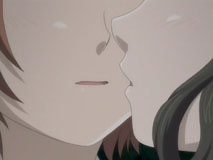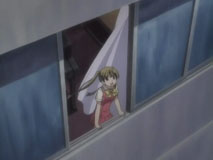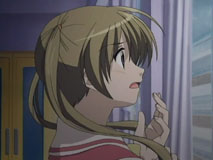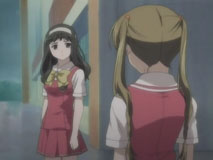 Sora, weird yellow alien guy, winds up teaching at Hazumu's school to get a better look at daily human life. In the morning, Tomari spots Yasuna biting a strawberry and then feeding it to Hazumu. An indirect kiss! A little concerned, Tomari tries to distract herself with track practice.
Yasuna picks up a dress for Hazumu and shows it to him after school. It just happens to be exactly matching with hers. They go on something like a date with their matching clothes, which entails shopping and karaoke. They remember back to when they all went out as friends with Asuta and Tomari. Hazumu, being the horny guy-turned girl he is, attempts to rape Yasuna once again.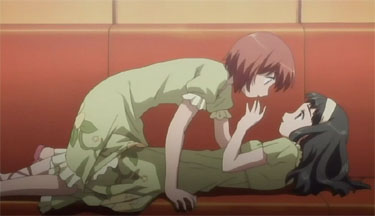 I mean accidentally fall onto her. Yasuna reaches up to his cheek, but Hazumu pulls away.
Back at home, Hazumu sulks and reflects back on the scene, wondering about her feelings. Her pervy father takes pictures of her in suggestive positions. Sora insists that she is lovestruck.
Tomari pays Hazumu a visit to return an old CD she had borrowed. She (unconvincingly) says she's glad that Hazumu and Yasuna have been able to become such great friends. Hazumu says they should go shopping together. After leaving Hazumu's house, Tomari goes to a store and starts reading shoujo manga when Ayuki confronts her about the situation. Ayuki makes a good point, that either Tomari step onto the stage or step off because this whole thing is ridiculous (I love Ayuki).
The next day at school, Tomari spots Yasuna and Hazumu planting together, and then witnesses Yasuna confessing to Hazumu! Yasuna falls into Hazumu's arms and hugs him, sharing one umbrella. Right when they are about to kiss, she yells out the window, totally pussy-blocking the situation. After, Tomari confronts Yasuna about hurting Hazumu when he had been a guy. Both are hurt and probably feeling guilty.
If you notice, I don't retain much consistency with gender when I refer to Hazumu. This is because Kashimashi focuses more on the person of Hazumu than the actual gender of him/her. Hazumu turning into a girl has only meant for us exciting lesbian consequences and cute dresses. In reality, the actual story is not altered much by the predicament. It still retains the same romantic mold of other anime.
Not that this is a bad thing. Of course Hazumu's gender does complicate things, but the basic triangle structure remains the same. I guess viewing anime in the form of plot formulas may seem pretty dim to you, but I just think it's interesting to see how similar everything is. Take away the lesbianism and what do you have…? Any other romance? But if this formula works, then isn't that a good thing? And, well, we can't automatically excuse the boundless possibilities for hilarity and unpredictable situations, so we shall wait and see. Right now, it's looking pretty formulaic to me.
As for characters, what side am I on? I can barely feel sympathy for either of the girls, because as Jeff has already said, though Tomari is having a pity-party for being the abandoned childhood friend, she's also being wishywashy and not getting with the program. She has no right to butt in if she's going to keep acting this way. And Yasuna, the hapless lesbian she is, is also a very annoying character herself, leading on Hazumu as a guy like that. I am happy she has already come out with her feelings now, but I still don't like her enough to go "YASUNA, FAITO!" So for now, Asuta is who I'm rooting for, whether he likes it or not!
Basic plot structure or not, I'll be sure to keep watching Kashimashi.
Teh ghey?! I WISH! I'm sorry, but this is screaming it…pre-girl Asuta/Hazumu fascination!

I've never seen this position before.
3gp pornosex amateur videosof kind all toy sexsex adult ukteen years body old 163 porn somecanal grand 4333amber sexy easton strip Mappic sex adultgay free 100 pornporno 89sex 900 phoneamaturesexsex alfachoice 2007 teen awardsali larter scene sex Mapadvance md loan cashloan advance cash msonline advance cash payday payday loanadvance loan directadvance payday loan searchadvantage of home a equity loanloans va of advantagescredit adverse personal loan unsecured cheap Map
256 Comments »
RSS feed for comments on this post. TrackBack URI