Hanbun no Tsuki ga Noboru Sora
|
The Only Day of School Life
一日だけのスクールライフ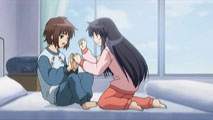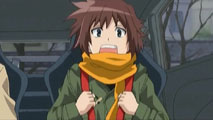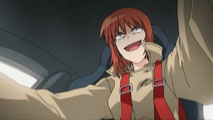 Rika and Yuuichi, making memories together.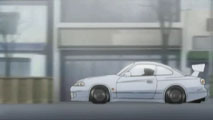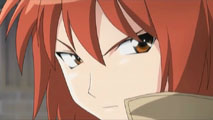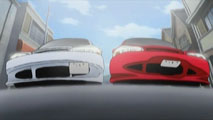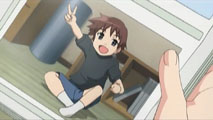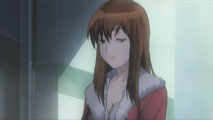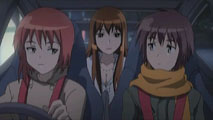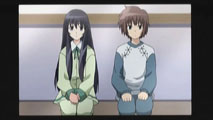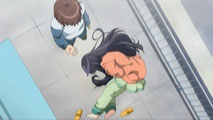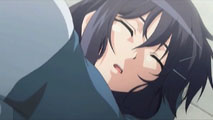 Natsume goes up to the roof and apologizes to Yuuichi, though he doesn't remember anything that happened the previous night. He tells him about when he was 17 and he didn't think about losing everything, and then makes him go away, but not before letting out a maniacal yell into the air.
Rika requests that Yuuichi take pictures of her so he tries to sneak out of the hospital to go get his camera from home, but Akiko catches him. She offers him a ride there in her awesome modded car, and they wind up racing with another group. I love her. Yuuichi goes home, retrieves his camera, and they set back on their way. Akiko's friend is in town, though, so they stop to pick her up.
Back at the hospital rooftop, Yuuichi is taking pictures of Rika when she expresses the desire to go to school and wear a uniform. Yuuichi then meets with a female school friend and gets a uniform for Rika to wear, and him and his friends take her to their school. They run into some trouble with an "ogre" o_O? but it's alright because Zebra Mask comes to save the day.
When Rika and Yuuichi get back to the hospital, they are both punished and put on a time-out since everyone had thought that they had eloped. Yuuichi fantasizes about eloping with Rika and then has someone in the hospital take their picture together.
On the rooftop again, Rika gives Yuuichi another book to read, but instructs him not to read it until she says so. Then they get ready to go back inside, holding hands, and Rika is about to say something important to Yuuichi (a confession?) when she collapses onto the ground. OMGZ!
I don't know about the rest of the characters, but I wouldn't let that pyscho Natsume operate on Rika. I don't care how skilled he is supposed to be according to people like Akiko. Not only does he apparently get drunk, smoke, beat up patients, and can't control his emotions, but he also does not seem mentally stable at all and I would so be afraid of him totally cracking half-way through the operation. Especially since he is so emotionally-attached to Rika.
The anime could be shaping up better, in my opinion, since I feel my mind wander a little bit during the episodes. Something is missing. I know we are supposed to feel a ton of emotional angst and suspense about Rika's condition, but even that isn't really motivating me to watch. I feel more suspense with shows like Karin or even Fate/Stay Night, but not as much this one. It might just be personal preference, but I wish the writers would let us become close and attached to the characters before pumping the anime with a bunch of depressing music, themes, expressions, etc. I feel like the second we are ready to smile a little about Rika and Yuuichi, something terrible has to happen. Or we have to angst a while about the past or present or future. Maybe if the anime didn't focus so much on the tragic future, it would have more impact.
That said, I still have episode 5 to watch (second-to-last!), and we'll see how well the anime builds up to its finale…
movies lesbosgiants little moviemovie clips lolitagay movies longminori movie aoiporn monster moviethe rouge movie moulincave clips pokemon moviegirl nextdoor moviemovie star nudesmovie lesbian longsex movies freethe showgirls moviemovies sample man musclelesbo moviesmovies porn length fullfree downloadable porn moviesmovies wifes home Mapporn stories exoticpornstar exoticporn free exoticaporn expansionreviews porn expertvideo explicit porn medicaclpornography explicitexplicit porn xxx Map
507 Comments »
RSS feed for comments on this post. TrackBack URI