Black Cat
|
A Sailing Cat
船出する猫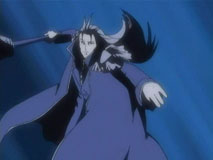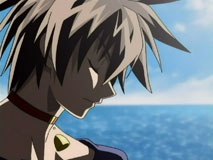 The true identity of Grin revealed, as well as his real Creed agenda.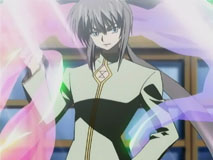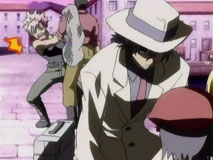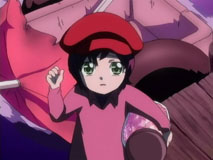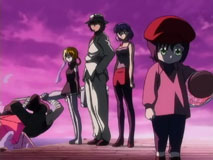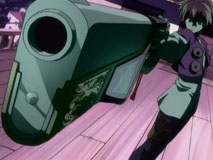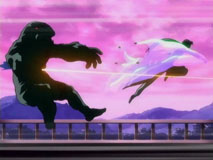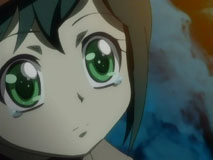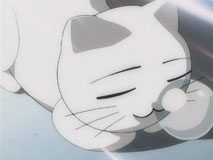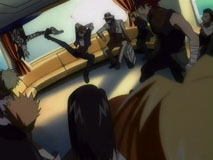 The intro didn't make much sense to me, as it had a bunch of random people fighting that we've never seen before. Yay!
Train and co. as well as Grin's Sweeper Coalition are getting ready to leave when Train reveals Grin's secret identity—No. X of the Chronos Numbers, Lin Shaoli. OMGZ! They quarrel a bit, and Train figures out Shaoli's brilliant Chronos plan to use the Sweepers as a diversion when trying to eliminate Creed and the Apostles of the Stars. Lin winds up being an admirer of Train's, and they parry a bit before random cyborg monsters show up.
In other news, Sven, Eve, River Zastory, etc. find a child trying to get to the same island everyone else wants to get to (Clarken Island). She is holding a big jar of sparkly shells and cries about her parents being on the island, blah blah blah. Then, yes, cyborg monsters. Fighting happens la la la…
Meanwhile, Train and Lin Shaoli are still arguing about ideologies until Lin realizes that the Sweepers are actually people with strong ideals and begins to respect them more. Train explains that the Sweepers' job is to make the world better for other people.
Monsters dead, the Sweepers forgive Shaoli and they make an agreement to be his diversion if he will be theirs. Everyone is happy, yay! Cake and sundaes happen.
I felt like a lot of time was wasted in this episode, especially on the little girl's pity-tale. Don't get me wrong, I think she's real cute and all, but she had way more lines than even Sven or Eve, and that is not good. Not good at all. She took up nearly the entire episode…
Now, I enjoy my fair share of shounen, but the random Tao/nano-tech monster battles were too boring. I'd like to think that the evil Apostles of the Stars geniuses could think of something more badass than cyborg Jurassic Park rejects. And where do they get all their money for this expensive nano-tech research, anyway? Did Creed keep a piggy bank back in his Chronos days or do they do fund-raising selling Girl Scout cookies? One can only wonder. I know Black Cat isn't an anime meant to be analyzed, but I can't help myself sometimes. I always wonder where the bad guys get their funding if it isn't an obvious source like drugs or prostitution. Though I wouldn't put it past Creed to sell himself on the streets of West Hollywood.
One thing that does creep me out about the whole Apostles mess is the way Echidna looks at Creed with that painstaking worry and defends him adamantly. It's almost as if…she's in love with him?! Now, I've dated my fair share of weirdos, but Creed would really be pushing it. He dresses like a woman, randomly cackles like a maniac, makes crazy faces, and longs for a fellow male who is clearly not interested. Come on, she's a hot famous actress. You think she could do better. Hell, weirdo Doctor looks good next to Creed. At least he's an intellectual. Sort of.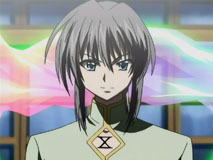 Lin Shaoli: Talk about a cheesy name. Number X of the Chronos Numbers, this guy is another admirer of Train's, except way less creepy and maybe a tad less girly than Creed. He still isn't the epitome of masculinity (his iridescent ribbon weapon is questionable) and he commands way less of my respect than his other identity, but he could be worse, I guess. Shao Li is also ordered to carry out the wishes of the Chronos Numbers and eliminate the threatening Apostles of the Stars group, including Creed.

miope abeja mp3mp3 hero 764afraid not acceptance mp3noki mp3 7650acidjazzed mp3 evening77 none mp3mp3 jungs 7erhookup 1800 mp3 goldwing Mapmovie azumi kawashimabeach girls moviebig black movies titblack movie clips sexmovies in breastscheap porn moviescum drooling moviesdeep-throat movies Mapfan movie wallpaper comicdog fucking moviesdbz download moviesmovie famous catfightssex first lesbian movieporn free asain moviesfree movies bustymovies porn free farm Mapabout mortgage loanall loans crediteducation loans act about125 loan lendersamerica advance loan paydayloans types of 550000 personal loan56 school loans Map
191 Comments »
RSS feed for comments on this post. TrackBack URI