REC
|
Wait Until Dark
暗くなるまで待って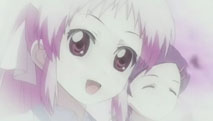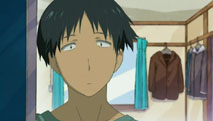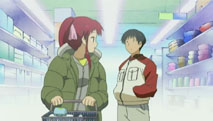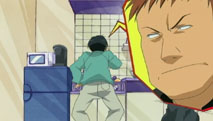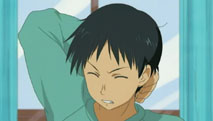 Yeah, Fumihiko, what a pain it must be to have a beautiful young girl sleeping in your bed every night. I really sympathize, I do.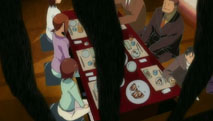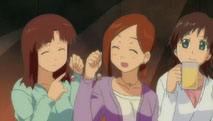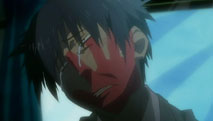 Must keep up…with…episode…releases…メ、メガヽ(@o@)/・・・マワッタッ
Aka dreams back to her childhood when she told her friends she wants to be a seiyuu in the future, and her friend says someday she wants to hear her on TV. Fumihiko also dreams back to telling his friends he wants to go to Tokyo, but instead of something cute, his friend says Tokyo girls are easy to get into bed, and he says, "Ehh? I wonder…:D" and drools while he's sleeping with a really creepy face (感じ悪い to the max 1).
That morning, they go to the market to pick up some food, and Aka makes breakfast. Meanwhile, Fumihiko is troubling himself with the fact that she's a stranger staying with him in his apartment, and any ideas other people might get.
During the day, Aka goes to work as a background voice for an anime, and Fumihiko is freaking out and trying to get a proposal done for work. Aka brings takoyaki with her but the husband's too busy with work to eat with her. Aka leaves the apartment, though she looks unperturbed. After she leaves, Fumihiko's coworker/friend calls him to get him to come to a mixer that the boss has set up for the three of them guys, so he's forced to go.
Fumihiko looks completely bored and annoyed at the mixer, but one of the girls comments on how the voice for his ad mascot (Aka's) is so cute, and he feels proud of her. Then he realizes Aka doesn't have a key, so he runs home, finding her outside trying to keep warm.
Aka tries being positive and cheerful with Fumihiko after he sighs about his work, and he is about to continue when they hear their commercial playing on the TV. Aka remembers how her friend had said she wanted to hear Aka on TV one day, and that day has come. Fumihiko tells her she'll become a popular seiyuu someday. After hearing that, Aka turns off the light, and recites a line from one of Audrey Hepburn's movies. I guess in the heat of the moment, Fumihiko thinks how it's a burder to be living with a girl he hardly knows, but…and he moves in for a kiss, only to be smacked.
Fumihiko goes back to his childhood memory again with his friend saying that Tokyo girls are easy to get into bed, but this time his adult head pops up saying, "Absolutely NOT!"
Pff, make up your mind, Fumihiko! You either complain that you don't know her well enough, or complain that she isn't boning you every night. He's really lost some Saria points in this episode. His wishy-washy wavering about the situation with Aka was a complete waste of time, and it was frustrating to see him hesitating about her for NO GOOD REASON. Acting like it was a PAIN to have her around. Sure, he has work and all, but come on. And I know I was raving on before about how great the realism in the anime is, but I really don't like the fact that he seems like a completely pervy guy with no integrity when it comes to women. He tried once again to take advantage of Aka in the dark, only after sighing and moping all day about how he's stuck with her. His childhood memories also only consist of him being a complete dumb hentai like his friends, and his last cry of anguish at the end of the episode was about how Tokyo women weren't easy to get into bed! Talk about disgusting. I realize a lot of guys in real life can be like this, but I expect more from anime characters like Fumihiko, no matter how realistic the anime. I hope he does something Boy Scout-worthy to up his standings in the Saria book.
If Aka had given in to him easily these last two times, REC would have been shelved. I'm counting on her to keep the anime on track and hopefully break Fumihiko of his work angst habits.
I did think the married couple look for them (with all the shopping together and whatnot) was cute, though.
Me being frustrated over the situation reflects that I am interested enough to care about the characters, though, so that's a good sign. I just hope for cuter developments and less weird Fumihiko angst, job stress or no job stress. He just seems jaded with life. I hope this will just be an opportunity for Aka to cure him of the lame.
viagra 4.40 online buyinurl itemid 2005 loan december viagraviagra 1cialis compare levitralevitra viagra vs vs 2cialisitemid 2005 viagra inurl weight decemberdecember inurl 2005 itemid propecia viagra1cialis sales levitra viagraitemid 2006 viagra inurl december casino Mapa video paris in porn nightmin 15 videos pornamateur sex vedio cartoonamateur sex picturesadult xxx pornporn free clips video adult3d chat sexamauter teens Mapmovie youngmovie 11:143d movie pornmovie hardcore abi titmusexamples listening movie activeactors naked movies inactress in masala moviespost gay free adult movie Mapringtone swing adkins by traceswing ringtone adkins tracealec ringtones baldwinwireless ringtones 120e verizon prepaid959 porsche phone mobile ringtoneringtone yolanda adamalias ringtone themealltel lg 3200 ringtone Mapcasino code 3dice04 07 casino fight 14casinos online 10.00airlines inflight casinos10 casinos largestcasinoes aeds incasino ameriastarpoker 3 online card casino Map
190 Comments »
RSS feed for comments on this post. TrackBack URI