REC
|
Breakfast at Tiffany's
ティファニーで朝食を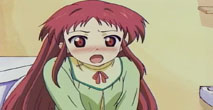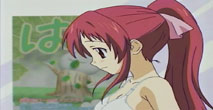 It's teamwork-ki~! Cuteness abounds!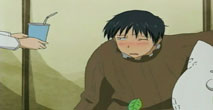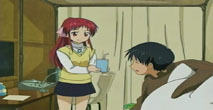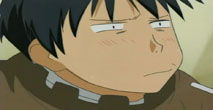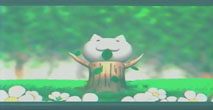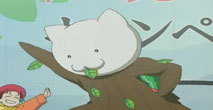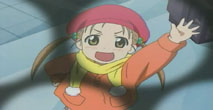 After some funny antics in the morning, Aka and Fumihiko rush off together in the morning to get to their job, campaigning for the new product. Their colleague hits on Aka a bit before leaving, and they continue to campaign (Fumihiko dancing, exhausted, and Aka doing Neko-ki's voice), even though it gets late and no customers come. Fumihiko tries cheering Aka up when no one comes, and they walk home together, eating potato croquettes. Aka recites more Audrey Hepburn lines to him.
On the second day of the campaign, a little girl shows up, who happens to love the Neko-ki character. She does the trademark poses ("Umaiki!") with Fumihiko in the seat, and Aka does the voice. The little girl's mom buys some, their first ever customer. When the little girl hear's Aka's voice, she says, "Uwwaa! Just like on TV!" Aka cries, touched, because she remembered her voice from the TV.
This episode was much cuter than last, I think. Fumihiko was caring and he did all the work in that costume without much whining. Plus, how can I be mad at something with little pointy arms? I just can't. It's like a law or something. Things with pointy arms and no hands are too cute.
The teamwork and connection between the two as well as their failures and successes together is a heart-warming concept. If they have nothing else, this ad connects them. And the little girl who went crazy over the Neko-ki was a nice touch. :) Aka was really emotional. I felt happy for them both.
Mostly warm feelings this ep! o(^-^o)(o^-^)o ヤッター
student loan 2003 federal rate interest2005 mt car december loanpayday 21 cash loan 30 quick21st bad loans credit mortgageavailable credit loans fair 3000 withloan 36 hours governmentmoney personal 000 hard 50 loanadvance 500 payday loan Mapbankruptcy loan auto afterbank after loan bankruptcya to agreement loan repay personalbroker agricultural loanmoney loan ahardalabama home loan equityhome alabama improvement loanalabama mortgage second loan Mapalabama union alabama power birmingham creditreading in maryland course accreditedcard merchant accept ac creditambac creditmerchant canada account casino card creditflorida teachers courses for online accreditedcredit amberaccreditation board tourism african south with Mapamature cream anal piepornos adultafter picking apple analysiswives having sex photos house amateurthearpy sex acupuncturesex interracial amaturencaa analysis 2007 tournament basketballxxx 3d toons porn Mapdownloads nokia 3595 ringtonesamsung 426 ringtone free311 mp3 cell phone ringtones5 alone ringtones minutesfree for ringtones absolutely samsungnew hear cant ringtone adult thatringtone loved 2 bdownload free 3360 ringtone nokia Mapmovies free sexmovie full free xxx lengthpee hidden movieslong movie pornmovies makingzemanova moviebig tiava movie assmovies free tit big Mapdirty movies sexquicktime player download moviemovies facial cum shotmovies farm girlmasterbation female moviesfirst movie fuck freegalleries fisting moviebig free movies boobs Mapcode casino 3dicefight 07 14 04 casino10.00 online casinoscasinos airlines inflightcasinos 10 largestaeds casinoes incasino ameriastarcasino online poker 3 card Map
296 Comments »
RSS feed for comments on this post. TrackBack URI