Kashimashi - Girl Meets Girl
|
The Things Reflected in Yasuna's Eyes
やす菜の目に映るもの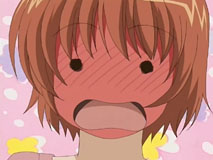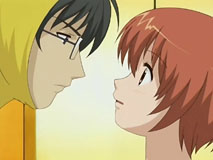 "Man, men are all the same! Can't tell one from the other." I hear ya, Yasuna.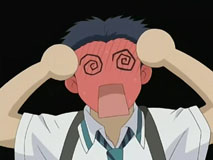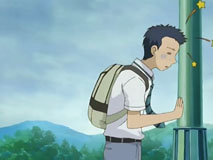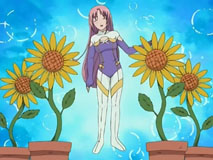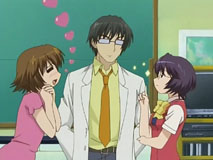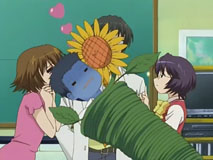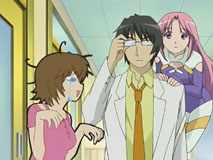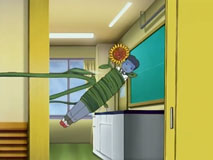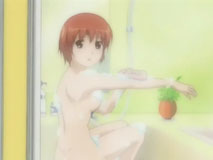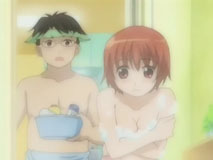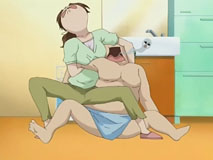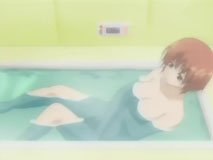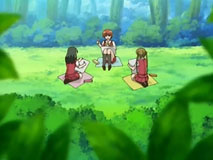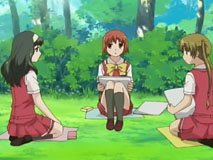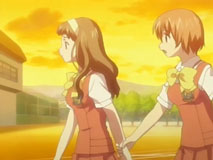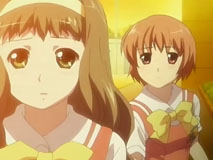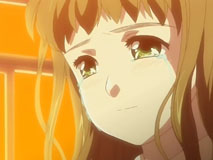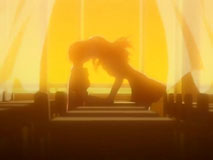 Whoa, I am only like a year behind in Kashimashi updates! Yikes. Let me get on that. :P
Hazumu and Asuta are walking to school together when Hazumu asks Asuta if he has a person he likes. He freaks out because he (wrongly) thinks Hazumu is trying to get him to confess to her. But then she says, "Sorry, you aren't interested in romance, right?" and breaks his poor wittle homosexual heart.
Meanwhile, Tomari is working hard at practice, trying in vain not to remember Hazumu and Yasuna together in the garden. When Hazumu arrives at school, Yasuna and him/her walk to class together, leaving Tomari behind.
That day there is a class sketching excursion, and Yasuna tells Hazumu to sketch with her. But then Tomari butts in and tells Hazumu to sketch with her. Dilemma!
Hazumu's sensei asks her to bring the old art exhibit sketches from last year out of storage, and she winds up seeing Yasuna's sketch from last year. The sketch is perfect except that all the boys are formless shapes, and Hazumu is sketched out, but his face is not drawn. Sora comes to look at the sketch and ask Hazumu if he hasn't "noticed" yet. Hazumu doesn't know what he's talking about, so Sora tells her that she doesn't understand anything.
Back at home, Hazumu's dad is trying to get pervy and sneak up on her in the bath, while she angsts about not understanding anything about Yasuna like Sora said. To add to the angst, it starts raining outside.
The next day at the sketching field trip, both Tomari and Yasuna vie for Hazumu's attention and sketch with her. Yasuna sketches a nice picture of her as a girl, while Tomari sketches one of her as a boy in middle school. Both girls bicker a little bit before Tomari freaks out and tells Yasuna that she understands nothing and reprimands her again for breaking Hazumu's heart in the past. Hazumu screams and tells Tomari to stop, so she runs away. Awkwaaaard.
After school, Yasuna's stopped by Hazumu before she can walk home, and tells her that she wants to know more about her and understand. They go into an abandoned classroom together and Yasuna explains that she can't see men. It had started with her father. His face began to become featureless, and now all men are like that. She can't tell them apart. (Maybe because they're all the same! Har har).
It is because of this that Yasuna rejected Hazumu when he confessed to her, because she didn't want to hurt him in the long run. She had actually liked him before, and then Hazumu became a girl, so now Yasuna has pursued her. Then she freaks out and says she doesn't know what to do, and runs away. After a little thinking by herself, Yasuna gets a determined look on her face and runs back into the classroom, goes up to Hazumu, takes her hand, and tells her that she doesn't want to have any regrets. Then Yasuna kisses Hazumu. Hazumu thinks, "I must accept this kiss, because Yasuna has already been so hurt. But Tomari comes into the room and sees them kissing! Oh nos!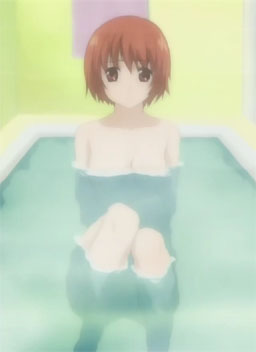 Jeff has already touched on this a little, but I also wanted to express my dissatisfaction with Yasuna's inability to see men. It is over-the-top, and I think it provides an unnecessary obstacle to the plot. Yasuna can just be a lesbian—she doesn't need to be inable to see men at all. A normal confession of her lesbian starting as a child would have been much more interesting to listen to. I would love to hear her talk about being heterosexual and then becoming more interested in girls than guys because of how they look or act or whatever. But this inability to see men makes her lesbianism look more like something she is forced into than something she has decided for herself. Like it is the only sexuality available to her.
I thought Hazumu's "acceptance" of the kiss was pretty lame. It was as if she went along with it because she felt an obligation. What happened to the passion from before? I wanted to see her smile and at least enjoy the kiss. Everything seems so pained.
At least this episode ended on a very dramatic note, and I can only look forward to see the developments next! Despite my minor concerns and complaints with the anime, Kashimashi is shaping up to be a decent love triangle story.
By the way, Pu is seriously annoying. She needs to cool it and turn back into a ship (with absolutely NO audio) or something. :\ The less Pu in Kashimasi episodes, the better.
changer mp3 4musics bitratemp3 80s metal1gb mp3 flash memory shufflemp3 tiesto adagio for strings4th man wise mp3183 club mp3mp3 splitter absoluteacousta burner mp3 Mapmovies xxx full length freehentai xxx movies freexxx movies long sex freefreeadult moviesdates movie future releasegarbage pail kids moviemovies blowjob gaymovies gay hentai Mapfast loan alabama cashalabama unsecured personal loanapplicants approved all loansfranchise loan capital commercial american andcanada loan pay $1000 daysignature $5000 loan1000 loan payday canada 2016 credit loan military 11 payday Mapmovies wives nudemovie guide nudityschool movie old picturesporn playboy movies freemovie the poltergeistporn movies forummovies exclusive sapphicmovies juice sapphic Map2mg membership xanax noviagra afteroverdose to xanax amount100 viagra mg pricepills 100mg price viagraacapulco viagraviagra acheter$79 tramadol 180 Maploans cash advance texasloan advisorloans agriculture landalabama online loan homeloan $25,000 pay offfinancing loan 100 mortgage100 loan lotloan 10k Mapsapphic movies 4 playsex free moviessexy lesbian moviessneak tickets preview moviestrip tease moviesteen girls moviesmovie dirty dancing theeclipse movie total Mapbrazilian movies free pornnotebook movie quotesmovie teen freemovies daily free sexasswatcher moviesmovies sex free samplelicking movies pussylatest releases dvd movie Map
306 Comments »
RSS feed for comments on this post. TrackBack URI