Kashimashi - Girl Meets Girl
|
The Bride and Groom
お嫁さんとお婿さん
"Now I can become your bride, right, Tomari-chan?" Wait…Don't you mean Yasuna?!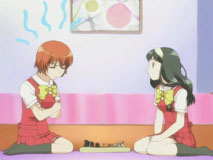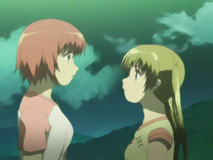 Whoa, I am only like a year behind in Kashimashi updates! Yikes. Let me get on that. :P
When Tomari catches Yasuna and Hazumu in action, she merely pretends she is okay with the entire situation and apologizes for intruding. When Hazumu tries to go after Tomari, Yasuna grabs her hand and stops her, thanking her for accepting her love.
Tomari runs from the school, trying to convince herself of Yasuna's justification for kissing Hazumu, how she liked him for such a long time. But then she remembers back to a childhood memory of them with Hazumu wanting to be Tomari's bride, and then Tomari telling him he has to be her groom instead since he's a boy.
The next day, Tomari acts really weird and pretends to be totally okay with the Yasuna Hazumu situation, and yet avoids Hazumu and tries to push him away onto Yasuna. She keeps saying things like "You have Yasuna for that, don't you?" and whatnot. Hazumu tries real hard to include Tomari and interact with her, but to no avail.
Hazumu realizes that she has already made a promise to Yasuna, so she shouldn't be acting emo about Tomari. That day after school she goes to Yasuna's house. They talk for a while and realize they have a lot more in common than they thought. When Yasuna tries to kiss Hazumu, however, Hazumu can't follow through with it, because her memory of Tomari keeps flashing in her mind.
After thinking a long while about Tomari in the shower, she recalls the complete memory of Hazumu as a boy wanting to be Tomari's bride, but her telling him that he has to be a groom instead. So Hazumu says he will become Tomari's groom, but Tomari says he isn't manly enough. So he goes to the river and says, "If I can cross this river, will you by bride?" Tomari says yes. After remembering, Hazumu rushes out and finds her near the river from their memory. She tells Tomari her true feelings about not wanting to lose her, Yasuna or no Yasuna. She takes Tomari's face in her hands, but gets a slap. Tomari reprimands her for acting this way after already deciding to be with Tomari. But Hazumu jumps across the river and says "Remember this?" and begins crossing it. Tomari then runs into the river into Hazumu's arms, and they hold each other. Hazumu says "Now I can become your groom…no, bride…" Tomari realizes that for sure, and admits to herself, that she likes Hazumu after all. やっぱり。
Aww! At first, this episode was actually not much to watch. There was the usual tension between the lesbian couple and Tomari, just heightened. But the end! I really felt consumed by the characters and plot. I was absorbed the entire scene between Tomari and Hazumu. I really wanted to see them together, to kiss, anything. It was like Yasuna didn't even matter. Cliche or not, their childhood love came across powerfully. Their cute little memory together of becoming a bride and groom. I have made the complete transfer over to the Hazumu Tomari side. I know who I am rooting for now. :)
Excellent delivery, even if the majority of the episode was slow. I have once more become engrossed in Kashimashi.
Pu was actually good for something this time.
Hazumu's dad gets creepier with each episode. o_O I believe a visit from child protection services is in order. Wait, this is Japan! It is perfectly okay to molest your teenage daughters in Japan.
"No, Elbert, not now…We have company."

20 pornof porn abraxasacai cancer fighting and benefits mangosteensexxam amberin teens alopecialena 300 sex headey scenecompany analysis 3m swotalicia witt videos sex Mapaccount credit hawaii p merchant cardaccredited schools ultrasoundwichita credit union christian americanfinancial card credit americancredited has airline my not carduniversities in alabama accreditedreport hour screening 24 tenant creditfederal 2007 lafayette union credit Map4 ringtone boost free mobile50cent ringtonesadult ringtonedpolyphonic ringtones 16maker ringtone 2phone free nextel 100 ringtone forringtone adsenseringtones and stuff 4 free Mapzemanova movietiava big ass moviemovies tit free bigblow moviemovie download gay a freemovie pitch feveramateur free movies xxxmovie anal free Mapfree female masterbation moviemovie post fuck freeerotic movies free length fullfree previews movie hentaifree hustler moviesmovies fuck free longmovies fucking free midgetsfree adult movie clips Mapemo miget porn blackblack feet pornlist black female pornstarsblack free porn gaygang black bangers porn7 gangbangers black pornguys porn gay blackdvd black gay porn Mapporn 3gp mobile3gp porn downloadstorrent 3gp pornideos vporn 3gpfree porn videos 3pgworld 3rd gallery porn3xfestival porntubeclips 4 porn Mapporn bjorn gayblach voyeur porn70s porn stars blackporn black amatuerblack porn amputeeblack porn anal trailersand porn black witeporn animal black movies Map
162 Comments »
RSS feed for comments on this post. TrackBack URI