REC
,
xxxHOLIC
|
Love in the Afternoon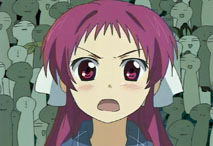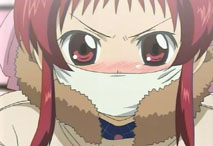 Sleeping together again…because of an 18 H-game?!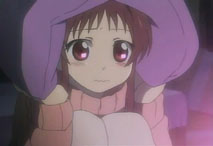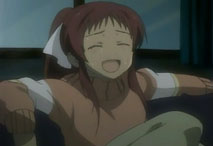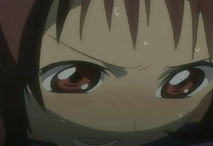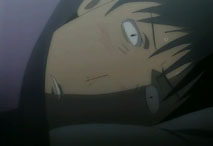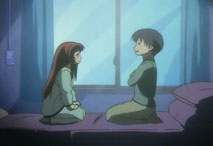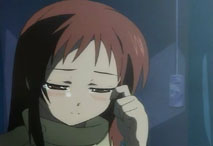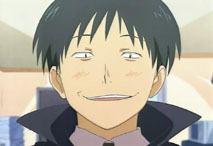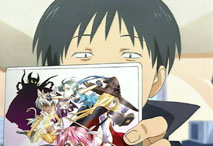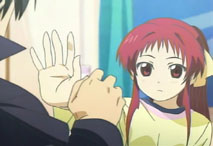 Aka is placed in an H-game dub job and she feels very uncomfortable with the lines, but is determined to learn how to do them well after talking with her agent. She has to learn how to sound like a sexy, shy girl in the game. Thus, she sets out and rents some hentai to learn how to speak that way, but Fumihiko comes home and she has to cut her practice short. Yoshiyaka earlier told her that she should practice with her "boyfriend," and though Aka refuses to think of Fumihiko as her boyfriend, she asks to sleep in bed with him, with the aim of practicing. Fumihiko freaks out while he's lying next to her, unsure of what kind of action he should take, and then Aka tells him, "There's something I want us to do together." He's startled but the atmosphere becomes more comfortable when he learns about the script. They practice a little, and the next day at recording, Aka does a much better job and gets the lines finished. Her agent is happier with her as well as the rest of the crew. Yoshiyaka asks Aka if she did better because she had practiced with her "boyfriend," but Aka of course refuses to admit it.
That night, Fumihiko brings home the H-game with Aka's voice on it, but she doesn't let him play it.
I love the developments so far! This simple anime has really got me rooting for the couple! Fumihiko has really improved in my opinion, and at least he is more careful about how he acts towards Aka. He also shows a lot of care, even if he is a pretty dense/pervy guy sometimes. He is the average guy, but he is a nice guy.
Aka was very cute this episode, and it was interesting to see her having to learn how to sound pervy. You could tell it was a very unnatural thing for her, and you wonder how experienced she really is, despite her easiness that first night. I would feel so embarrassed to try and practice H-game lines with my boyfriend…though maybe it would be fun, too. :3 I wish they had played a little bit more with that, like getting Fumihiko all revved up over Aka's voice, but, alas…I guess you can only do so much in 14 minutes!
I also think the male Japanese sexual pysche is real interesting. It is much more popular to hear "いや~だめ!" ("Stop, no…") than "YES YES YES" like in a lot of American porn. I think average American guys want to hear their girls screaming with delight and jumping on them like aniomals more than refusing them and acting shy. Maybe rape is a real sexual thing in the Japanese subconscious. :P I think it would be harder for me as a girl to act shy during sex. But that's probably just due to my open personality.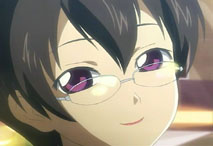 Yoshiyaka: Might as well do a char review. She's in charge of 10 other seiyuu along with Aka, an agent that helps them get jobs. She encourages Aka and tries her best to help guide her in the right direction and provide a future for her. When Aka doesn't feel confident about a job, she keeps her focused on reality. A kind but very busy character.
asian sex free moviescum free moviesfree sex group moviesjapan movie pornmom movies sonmovies juicy pornmovie emmanuelle seriesfree long blowjob moviesnude clips free movieage ice moviemovie japanese pornjapanese movies schoolgirlkitana jade moviemovie kristinafeylatest movies bollywoodon strap movies lesbianmovies lesbienlezbo movies Map24 cellular ringtone99 ringtones cent1.99 ringtones80 s ringtoneseagle ringtones american bald3588i sprin nokia ringtonevoice adult ringtonesringtones free absolutley Mapmovies free squirtmovies sex bigtrivia movie horrormovies xxlporn free movies animalonline movies porn freeluvana movies free carmenfree bang gang movies Mapringtones 36 crazyfiststons 16 ringtoneringtone proof adulfringtone 500 milessoftware ringtone 8700c16000 hz ringtoneagarwal ringtones abhishek910 ringtones error Mapacs eduacational loansloans amazedloans 43000american loan cosupplemental student loans alaskaof loan 4.99 lifeacs loans federal studentafter loans rv bankruptcy Map500 loan cash personal9 loan direct servicesystem loan accounting bankcash loans actualrate adjustable loan mortageadverse us loan unsecuredloan mortgage affordabledevelopment agreement land loan Mapmilitary porn gay amateuramateur porn gay onlinegroup sex porn amateurhindu amateur clips pornamateur home movies pornhome amateur movies pornpornography amateur horseporn amateur hustler Map
331 Comments »
RSS feed for comments on this post. TrackBack URI