Hanbun no Tsuki ga Noboru Sora
|
Our Hands Will
僕たちの両手は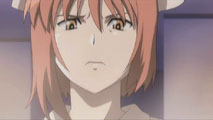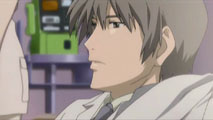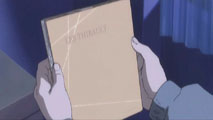 EVERYONE DIES!?!?! (Not really). A dramatic hospital series comes to a close…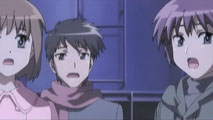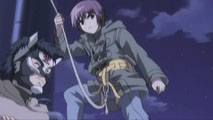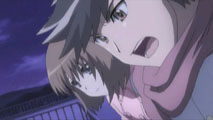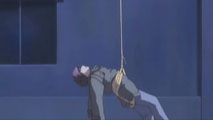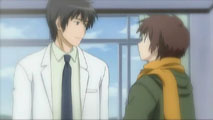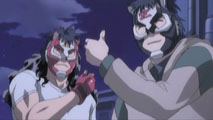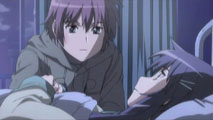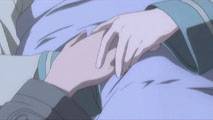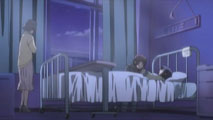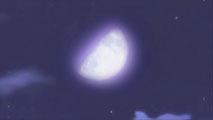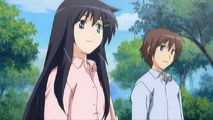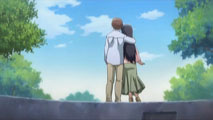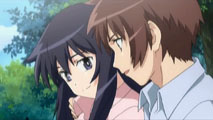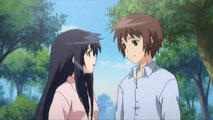 Rika's condition is stabilized and she is removed from the ICU (Intense Care Unit), but Yuuichi is forbidden from entering the Eastern Ward to visit her because the doctors are jerks. Natsume won't tell him the real situation with Rika, however, until he's bugged by the residential yakuza nurse. Rika will only live for a few years more and has no chance of complete recovery.
Yuuichi then devises a plan to see Rika no matter what, so he calls his friends together to help him. On the roof at night, his friends together (including Zebra Mask) help him attach himself to a rope and then swing from an edge to Rika's balcony. After a little spat with her mother, Rika has Yuuichi come in. He then requests to be at her side for a long time (meaning as long as she's left to live), and she agrees. He says he will give up everything for her if he has to.
Some time later, Rika and Yuuichi go to the top of the mountain again and hug and kiss. They look forward to the time they have left together.
Episode Review (Expedited by Paul)
This was one of the few anime series for which I didn't cry at the end. I don't know if it's a reflection of whether it impacted me or not. I guess the way things worked out just seemed extremely fitting.
The ending was more refreshing than most. It wasn't excessively cheesy, and though it was uplifting, it was still down-to-earth. I would have been upset if Rika or Yuuichi had died, not because I dislike sad endings, but because it would have been so cliche. I know some people may disagree with me on this one, but I think the fact that Hantsuki ended in the way it did was what separated it from the usual tragic love series. No deaths, but the complete acknowledgement of a future, gradual death. I think that is more powerful than a death, for which suffering would come suddenly for all the characters and end, then cut to a scene with Yuuichi 5 years later leading a positive life. I might have cried more, but I wouldn't have felt as complete as I do now with this ending.
And yet. Something was missing. I was hoping that everything would connect at the end. At least, a little less blandly than it did. Merely concluding that Yuuichi and Rika are repeats of what have gone before was too dull. I feel like this series had more potential for a complete immersion of the viewer in what could have been an extremely poignant story, with loveable characters.
While I enjoyed the ending, the overall series was not as impressive…
Click here for my series review of Hantsuki.
nokia download ringtone 231231330 freeringtone 2312333232i nokia free downloadcdm ringtone 105 audiovoxhalifax street barrington 1239ringtone 2100 free lg2115i nokia ringtonefree ringtone motorola v 230233330tnokia phone ringtone 231231300 free Mapsex 100 dating sites freeamateur cumshots teenand advertising teensporn 100all home sexpornorgraphy adultsex amatuerstechnology abt advanced bioanalytical Map
257 Comments »
RSS feed for comments on this post. TrackBack URI