Fate Stay Night
|
Blood Fort Andromeda
鮮血…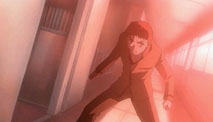 After continuous disappointments, Fate/Stay Night proves itself watch-worthy! Shirou goes from 0 to Sexy, Saber's finally summoned, and the lovers hold hands…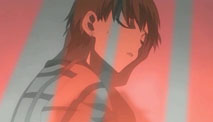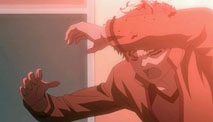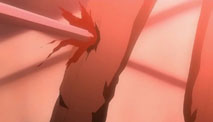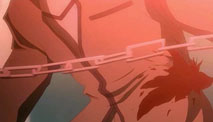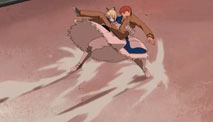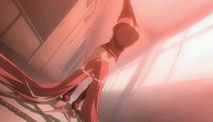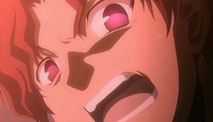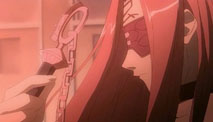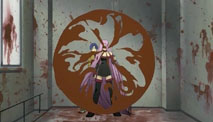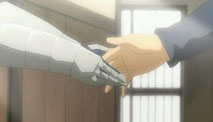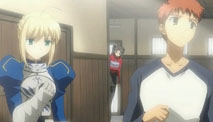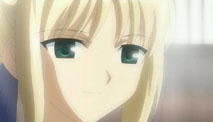 For the first time, I found myself actually really into FS Night. The episode started off a little slow (the lethargic, ominious, Silent Hill background ambience doesn't help much), but at least even then, a new element has been introduced to complicate things. Shirou is unwittingly practicing Replication, ignoring the law of conservation and creating metal objects out of nothing. Even Rin is impressed. Interesting, interesting.
Despite my little squeak about the ominous background music, the rest of the score for this episode was actually fitting, unlike last. I'm with Garten: the epic battle music really enhanced and glorified the battle experience between Shirou and Shinji, Saber and Rider.
But this new battle was absolutely delicious. The way Shirou went from baka to badass in seconds was amazing. It only took him 11 episodes, but Shirou is finally worthy of praise. After his pussying it up, I had never expected such a turn-around, at least, not in this battle. I had never expected him to make Shinji squeal for mercy and become such a lethal, unstoppable force, glancing off black magic like it's nothing. He was definitely kakko ii to the max.
I had anticipated him summoning Saber as he was falling, but the way she flew from a portal in the ground and caught him spinning was fantastic. At this point, I was totally geared up for the battle, and the Saber Rider action made me squee. Too bad it ended so quickly. But Rider's mana release made up for it. I am kind of disappointed that there have been no casualties yet, but at least there was an explosion, gore, and hospitalization.
So, Shirou finally gets it. Saber will fight for him, but he has to be around to lame it up. At least we've progressed from "Noooo! Saber is a girrrrrl, she can't fight!" Their little bicker at the end was cute, too, not to mention when Saber said she wears her plain clothes because Shirou said they look good on her! (Insert girly noise).
A few things puzzle me. Is Shirou that resistant to injury or does he automatically reinforce his body somehow? I guess we'll see! All I know is, I bet every Master wishes they owned the lovely Saber.
So we're through with lame informational talks now and onto teh killingz? Hellz yes. I am definitely looking forward to the next episode! And that's a first.
…And, because I can't help myself:
I think Shirou has more than a love triangle to worry about. The love polygon gains sides every episode…
I'm a terrible, terrible person.
Hey, it isn't my fault that F/S Night is the easiest material around to poke fun at.
porn free movies gothicporno movies free hardcorehot movies mom freehousewifes free fucking galleries movieindian free sex moviemembership sex free no latina moviesmovie lesbians freelong movie porn freemachine fucking movies freefree midget porn movies
198 Comments »
RSS feed for comments on this post. TrackBack URI