Karin
|
The First Time…is Embarrassing
はじめての・・・ 恥ずかしい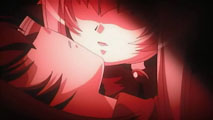 This is what happens when you love your big sister too much…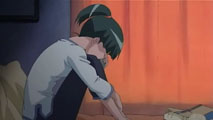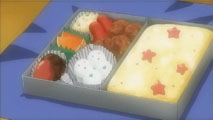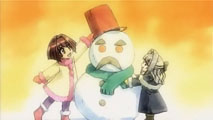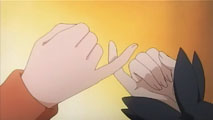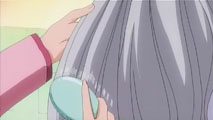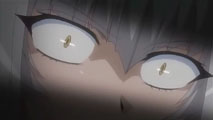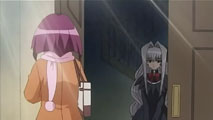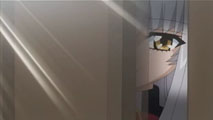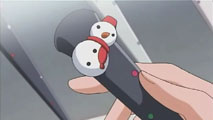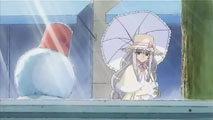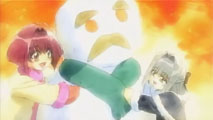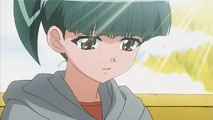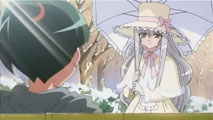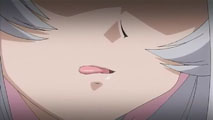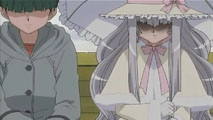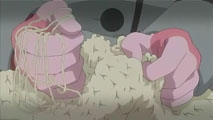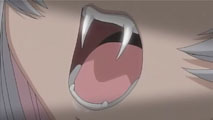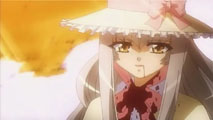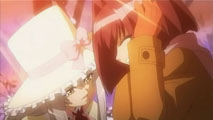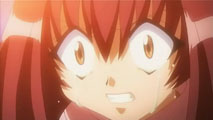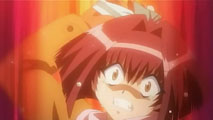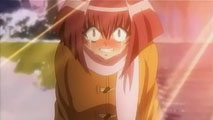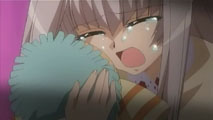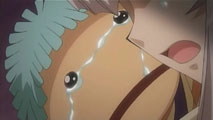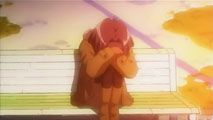 Anju wakes up from a strange dream/fantasy about her biting her sister, and says good morning to Boogie-kun, who doesn't respond. She freaks out and shakes him, and it turns out he was just asleep. While walking around the house, she discovers the sunlight hurts her. In the bathroom, Anju gets a note from one of her bats informing her that Usui has invited Karin out on a date for tomorrow. Outside, Maki was watching the happy couple with searing jealousy. Anju crushes the note in her hand.
When Karin gets home, she's flailing around in a happy daze about the date in front of Anju. The little sister hides her jealous feelings and pretends to be glad for her. Karin then gets a phone call from Maki, who sounds very serious, about meeting tomorrow before 5pm in the park. Karin makes a super cute bento box to share with Usui tomorrow. Anju points out the little snacks shaped like snowmen and asks Karin if she remembers when they were little and they made a snowman together. It melted and that made them sad, so they made a little one and put it in the freezer. Anju says, "If only there could be a snowman that would never melt."
Meanwhile, Winner is meeting with his grandfather, who is conspiring against the clan.
Karin is brushing Anju's hair after washing it when she asks what her little sister wants as a gift tomorrow. Anju responds, "onee-chan", but Karin doesn't hear. She then tells her to pick whatever she wants to get for her.
Later and in private, Boogie-kun yells at Anju for holding in her feelings back and not expressing them to Karin. He tells her to "stop already," and that watching her doing this is too much to bear. Anju says she can't because she wants Karin to keep smiling. Boogie-kun tells her that Anju's still the one crying, even if there are no tears coming out. He pleads with her to tell the truth to Karin. He says if she doesn't tell him, he will. At that, Anju freaks out and grabs him, ready to tear him to pieces. He says he will still tell her, even if he's ripped to pieces. He tells her he cannot vanish when Anju's still crying.
After Karin leaves for her date, Anju dresses up to leave, also. Despite Boogie's protests about going, she still covers up her body and leaves. Ren tells her on the way out that both Anju and Karin are dumb.
Meanwhile, Karin is picking out a gift for her sister. She finds a set of cute snowmen clips. Anju is wandering, melancholy about the snow of her sister and her melting, when she comes upon Maki in the park. Maki is brooding over Winner and his unwanted scarf. She begins to unwind it when Anju approaches her, offering an ear. Maki asks about how Karin's doing, clutching her scarf angrily. She thinks back to happy times with Karin as a good person while she unwinds the scarf. Anju's thirst rises with Maki's jealousy. Anju tells her that she understands her feelings and that she can make her feel better. She takes her first bite and sucks Maki's jealousy away. Just as her fangs emerge, Boogie-kun slumps and falls over onto her bed.
Karin runs through the park to meet up with Maki since she's late. When she gets to the bench, she finds Anju drenched in Maki's blood. Anju is smiling. She tells Karin that her blood is beginning to awaken, so she bit Maki. She proves it to Karin by lifting away her glove and letting her hand burn in the sunlight a little. She says her taste in blood is jealousy, a heart that envies those who are happy. Karin freaks out on Anju, enraged because Maki is her best friend. Sucking her blood is like a betrayal. Anju keeps goading her on about how it is something insignificant until she mentions Usui's blood tasting sweet, and Karin finally throws her present angrily at Anju, calls her stupid, says she hates her, and then runs off.
Maki wakes up without knowing what happened, Usui is still waiting for Karin, and Anju comes home to a dead Boogie-kun. She tells Boogie-kun that she tried her best and now Karin can be with Usui forever. She hugs the puppet and begins crying for the first time, calling out her sister's name over and over.
Meanwhile, instead of meeting with Usui, Karin is sulking on a bench. She gets a message from her grandma saying she's discovered how to turn her into a real vampire.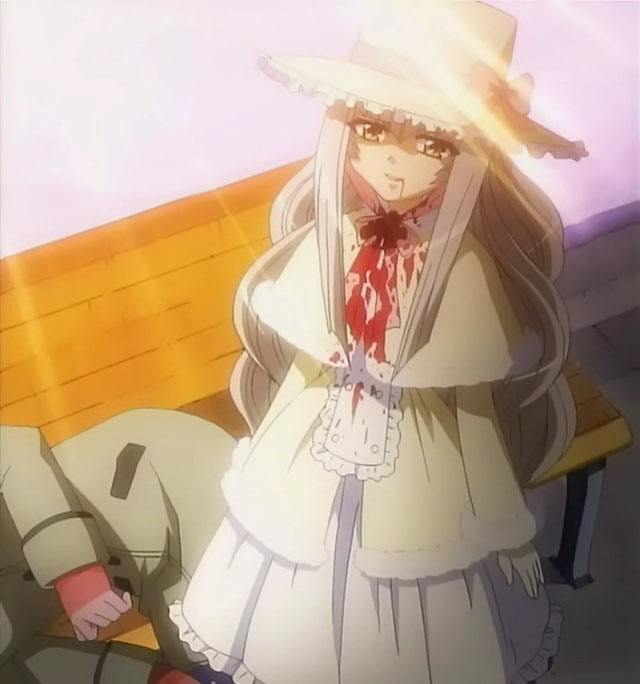 I'm impressed. These last few episodes of Karin have really given momentum to the series. The characters have all proven to complicate matters and not just act as pawns in Usui and Karin's relationship—they add to the plot.
So the shit finally begins to hit the fan for Anju: her blood is awakened, she goes all-out for her sister's sake, Boogie-kun's voice is gone, and she finally cries. This episode actually touched me. The bond between sisters is really powerful in this anime, even though we are usually only shown snippets.
I also feel depressed about Boogie-kun. If he truly is gone, then the family has suffered a huge loss. The way he pleaded with Anju and expressed his intense care and concern for her was completely believable. Boogie's presence in the anime has become something so much more than just the obnoxious puppet who speaks his mind at will. He has been Anju's voice when she could not say anything. I am not exactly sure what he represents, but it's obviously something deep within Anju.
So Winner's grandfather's entrance could either provide a major supporting arc or impede the entire plot. I just hope he isn't who I think he is—Elda's old lover or something—because that would be lame and improbable.
Anyway, I'm glad they took time to let Anju really play out her part (finally), and I hope for her sake that things are resolved (they should be since this is a happy series). The way the anime has engineered the characters to shake things up has just made everything extremely interesting. Each character has their own backstory and rationale and issue, which creates sexcellent little twists. I'm glad Karin and Usui's obvious romance isn't dominating the story until the very end, and that the writers have planted so many little plot seeds ready to bloom at the right moments.
free huge dildo movieincest porn free movieslong free movies lesbianmovies porno free longbisexual free movies mmfmovie free adultmovies upskirts of ladies freeteens movies of freepassed out xxx movies girls freefree movies mrs taft teacher sexthumbs movies free and sexcredit free card no movies sexporn free sex moviesposition free sex moviesfree movies sexualmovies free snufffree movies orgasm squirtinganal free movies straponfree teen anal moviesfree movies titty
233 Comments »
RSS feed for comments on this post. TrackBack URI