Fate Stay Night
|
Splitting The Sky
空を裂く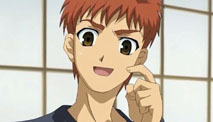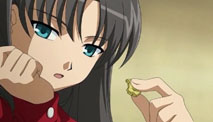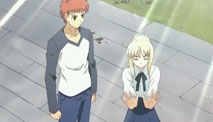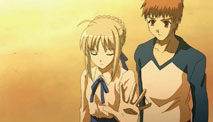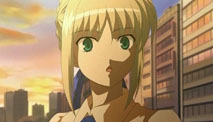 First official casualty…Check!
I have a mighty long way to go in catching up, but I can do it. できる、できる!Back with edited screencaps to boot!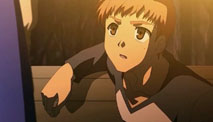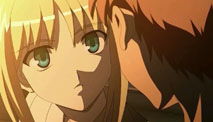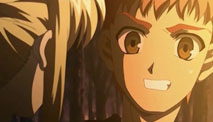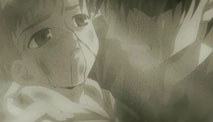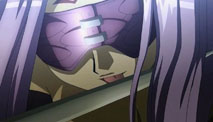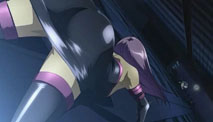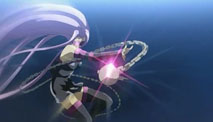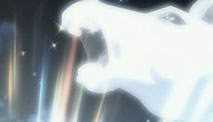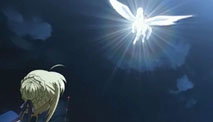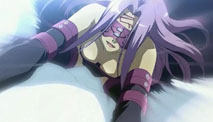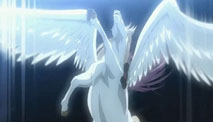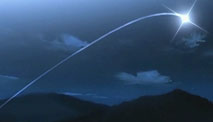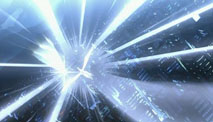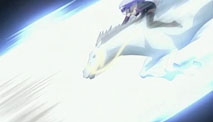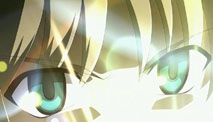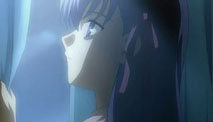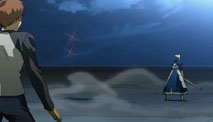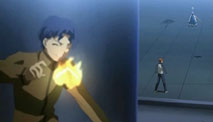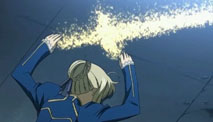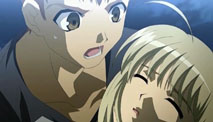 Somehow, I don't feel a need to write summaries for Fate/Stay anymore.
Finally, one down! Just 78 more to go! (With special bonuses and secret masters along the way…) Despite nearly the entire episode consisting of Saber and Shirou on a wild goose chase around the city, I was absorbed. I expected more Saber Shirou developments, but I guess you just can't have everything. Takin' it slow…
I was kind of surprised and disappointed that the writers managed to fit the final "huge" battle between Saber and Rider into that tiny time frame at the end of the episode. I mean, their last battle spanned almost an entire episode. But it didn't seem to take Saber very long to blast the shit out of Rider this time around. Thank God Shirou wasn't able to interfere more than he did, the idiot. But maybe the battle-cramming was good. I'm not a fan of long, drawn-out battles, though I thought seeing more of Rider's Noble Phantasorgasms would be cool. Or at least creatures, orgasmic or not. The pegasus was just beautiful.
The unmatched might of Phantasorgasms.
Obviously Berserker's presence in the building was ominous, but I don't see the significance of blocking Shirou's entrance to the rooftop. I mean, it's not like he's a real threatening force or anything, and it seemed like him getting to the roof was a bad thing for Saber. Shirou should watch where he goes to lick his loli next time…It looks like it's going to get him in trouble next episode.
Theory 1 on why Shirou wasn't wanted on the rooftop.
Well, at least there's finally been a casualty (or two). After all, it's only the what…12th episode? Keep those dead bodies piling up. I'm tired of this pussy "hospital" crap. You'd think a battle of prideful, angsty men with hot babes would at least have some collateral damage if not complete massacre. At this rate, even Disney's one-upping Fate/Stay.
It seems like the worse the episode, the easier it is to totally butcher. Merciless am I.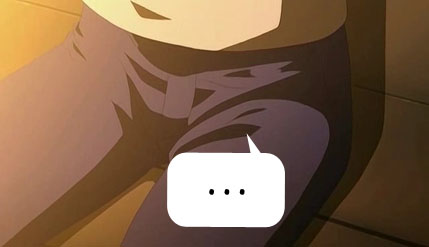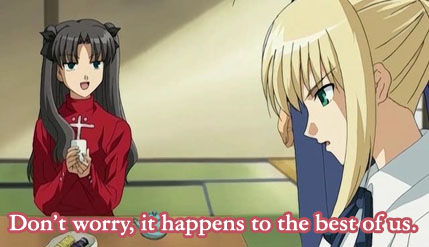 movie chocolat
christian for teen movies retreats
sex movies cindy and
in movie theaters drive
movies drunk sex
schedule encore movie
hell escape from movie
anal movies extreme
movies incest family
sex family movies
best home albuquerque rate loan
student am south bank loans
bank america rate loan car
doctor america loan bank
student loan bank america
title loan america north
loan america quest
home american loans airlines
bank home chartered american loans
consolidation college loan american
222 Comments »
RSS feed for comments on this post. TrackBack URI