*Sama Zama Site
|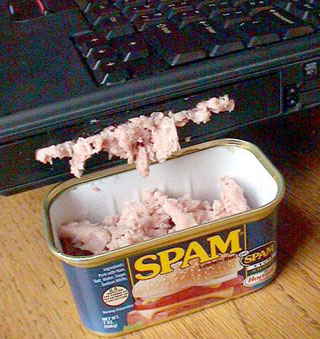 There has been a little poking around in the blog好き forums about comment and trackback spam, but nothing terribly in-depth about the personality of their spam. Most discussions about spam begin with, "Hey my site is totally spammed, what do I do?" and end with, "Askimet. Now."
The majority of bloggers are aware that Askimet is one of the best antispam plugins or doohickies out there. (If this is your first hearing of it, I suggest an install). But even Askimet makes mistakes, and so I review all the comments "caught" as spam before actually deleting them. If I see anything other than a bolded phrase that usually makes no sense, I double-check the comment. While perusing the other day, I found some interesting attempts by the bot of a Russian air conditioner distributor. His name is Tom.
"Don't walk behind me, I may not lead. Don't walk in front of me, I may not follow. Just walk beside me and be my friend." The URL was questionable, but for a moment, I thought that perhaps this was an abstract post expressing some opinion about either the writing or the blog itself. Then I visited the Russian site demanding in angry, forceful tones that I purchase their expensive cooling equipment.
In the past few days, I have come upon other bizarre spam comments that have nothing to do with blogging or air conditioners. The majority of the disguised spam, however, involves a lot of flattery. That is, bots telling me how awesome my site is. "Perfect site! Anything superfluous, all is laconic and beautiful. Thanks!" Now, I like my ass kissed as much as the next person, but having a robot do it kind of creeps me out. And it lowers my self-esteem. I read the comments before I realized they were spam, raising my hopes that someone had decided to compliment my mad blogging skrillz, my smile beaming and my cursor anticipating a "Not Spam" check. Alas, it was just Panasonic and the viagra dealer.
Though I shouldn't complain too much. Brown-nosing spammers are a lot more pleasant than the 500 or so short-phrased advertisements followed by an ellipsis. See: creampie cuckold… and laser quit smoking…. Not only do their daily 20 comments become annoying, but creampie cuckold sounds like possibly the most vile dessert one could fathom, and quitting smoking using lasers sounds more harmful than lung cancer.
Most of the spam sounds like completely made up advertisements, so what are the logistics behind those kind of bots? Does anyone know how spam comments function other than the obvious putting out URLs? What about those fake blogs that contain condensed, incomprehensible information about one subject? How do people make money like that? And who writes these bots, anyway? Any interesting spam of your own to share?
And the Prestigious Bizzaro Award goes to…
"Hey, this is a great episode. Really great music and the talk is funny and helped me get through a really boring hour in the airport. Keep up the great work and try to have some more shows with Jasper, they are really rockin' and very funny."
This bot may have something going for it. If only I knew anything about Jasper…
536 Comments »
RSS feed for comments on this post. TrackBack URI